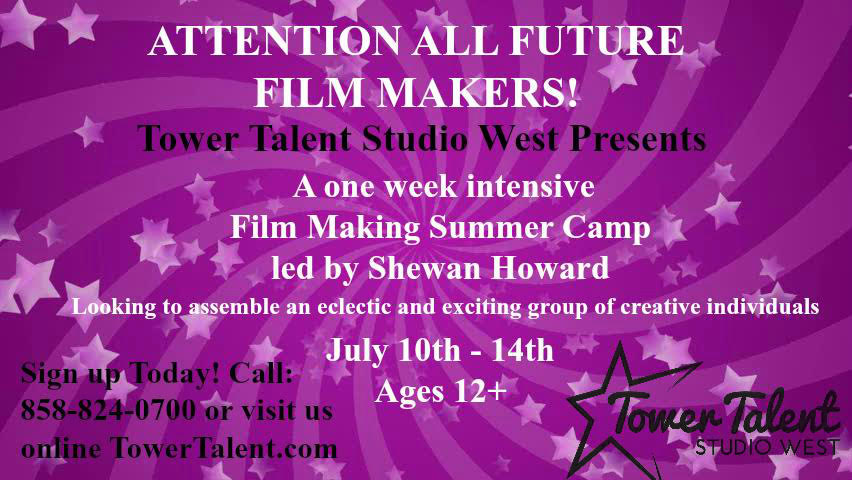 2017 Filmmaking Summer Camp 
CALLING ALL
MOVIE-MAKING MOGULS!
While most kids your age are catching up on sleep, TV, and movies over summer break, you'll be getting a head start at working in showing biz by creating your own content!
At Tower Talent's Summer Film Institute, you'll hone your acting and writing skills plus explore the technical aspects of filmmaking in one week.
Through a variety of activities and workshops including acting for the camera, audition technique, script writing, and directing, you'll prepare for the role of a lifetime: acting in a film that you created with like-minded individuals in a collaborative, supportive, and professional environment!
Plus! You'll get a chance to work with industry-standard equipment while learning about the production side of entertainment.
Once finished, the footage will be sent to our team of professional editors in LA, and you'll receive a link to your masterpiece to share with family in friends!
TUITION
Summer Camp 2017     $375.00       

2017 FILMMAKING SUMMER CAMP
DATES AND TIMES: 9:30 am-3:30 pm Monday,  July 10th-Friday, July 14th, 2017
Working Lunch Each Day: 12-12:30 pm (Bring your own!)
CAMP SCHEDULE:
Monday, July 10th
ACTING AND AUDITION TECHNIQUE
We will explore improv, cold reading, audition technique, and acting for the camera the first day of camp. We'll put your auditions on tape and have them reviewed by industry professionals in the Los Angeles area. Monday's lesson will also cover how to read breakdowns, write a monologue specific for your type, and commercial copy for your next agent/manager audition. Your homework for will be to prep your audition piece for tomorrow.
Tuesday, July 11th
AUDITION FEEDBACK AND STORY DESIGN
Today, we'll set up a mock audition. After recording you, we'll send your tapes off to an industry professional in LA to review before lunch. After lunch, our professional will Skype with us to give feedback on your tapes. The rest of the day will be spent identifying the elements of a story, "breaking the story" of existing shows, and generating ideas for our camp movie. Your homework for the night will be prepping your pitch for the Tower Talent Writer's Room.
Wednesday, July 12th
WRITER'S ROOM AND PRODUCTION PLANNING
Campers will begin by pitching their ideas to the instructors. As a group we will identify strengths in each pitch and combine them to write a rough outline of our script. Then campers will break into groups to "beat out" the story. In the afternoon, students will learn about the various roles of a production team and begin to explore camera angles and sound capture using industry standard equipment.
Thursday, July 13th
SHOWRUNNING, REHEARSAL, AND EQUIPMENT PRACTICE
Instructors will present campers with a script ready for punch-ups. Together, the group will finalize roles, lines, and beats. Next, the campers will prep the necessary elements of production: making a call sheet, location scouting, planning a budget, organizing props, and so on. After lunch, campers will rehearse the movie.
Friday, July 14th
SHOOTING DAY
Campers will shoot the final script they've been working towards all week. All campers will act in the movie and share production duties. Campers will experience what it is like to work on a movie set as an actor, director, writer, cinematographer, sound mixer, and producer. After the instructors have collected all of the footage, the campers will anxiously await the finished product that will be loaded to Vimeo and YouTube the following week!