"STYLE IS A WAY TO SAY WHO YOU ARE WITHOUT HAVING TO SPEAK" Coco Channel
The Tower Trends mission is to provide clients with the best possible resource to look and feel great. We want to not only reach out to our current Tower Talent clientele, but also offer our services to anyone who maybe doesn't have a passion for fashion, or simply doesn't have the time to do it themselves. We will help our clients with every aspect of their image to help them achieve their desired look. Whether you need assistance selecting a gown for your next pageant or that perfect look for a date night we have you covered. Our mission is complete when our clients look and feel their absolute best.
** ALL SERVICES COME WITH A FREE INITIAL CONSULTATION**
Call Us Today At 858-824-0700 To Set Up Your Appointment.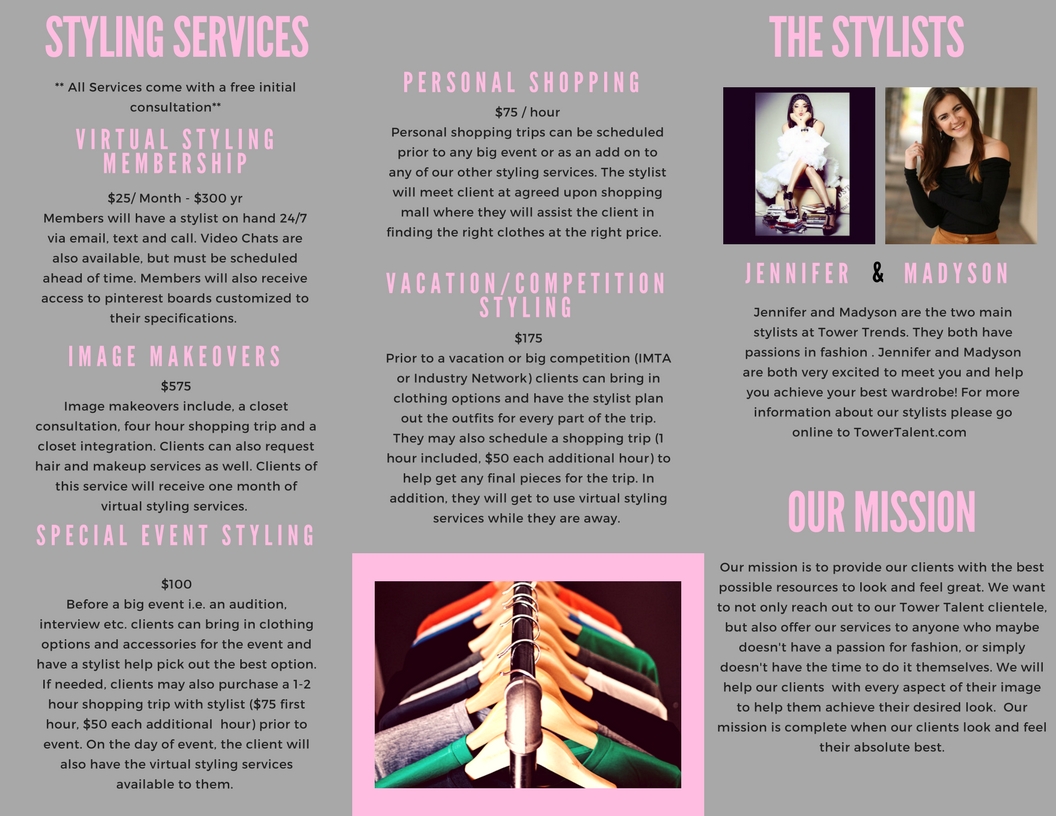 PURCHASE ONLINE HERE:
Virtual Styling Membership  $25/ Month – $300 yr
Members will have a stylist on hand 24/7 via email, text and call. Video Chats are also available, but must be scheduled ahead of time. Members will also receive access to pinterest boards customized to their specifications.
Special Event Styling  $100
Before a big event i.e. an audition, interview etc. clients can bring in clothing options and accessories for the event and have a stylist help pick out the best option. If needed, clients may also purchase a 1-2 hour shopping trip with stylist ($75 first hour, $50 each additional  hour) prior to event. On the day of event, the client will also have the virtual styling services available to them.
Vacation/ Competition Styling  $175
Prior to a vacation or big competition (IMTA or Industry Network) clients can bring in clothing options and have the stylist plan out the outfits for every part of the trip. They may also schedule a shopping trip (1 hour included, $50 each additional hour) to help get any final pieces for the trip. In addition, they will get to use virtual styling services while they are away.
Personal Shopping  $75 / hr
Personal shopping trips can be scheduled prior to any big event or as an add on to any of our other styling services. The stylist will meet client at agreed upon shopping mall where they will assist the client in finding the right clothes at the right price.
Image Makeovers  $575
Image makeovers include, a closet consultation, four hour shopping trip and a closet integration. Clients can also request hair and makeup services as well. Clients of this service will receive one month of virtual styling services.